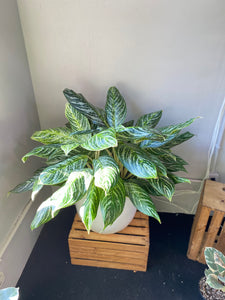 About this plant


Plant Info:

This Chinese Evergreen is called a golden Madonna because of its bright leaf pattern that is gold, grey, and yellow!  Chinese evergreen golden Madonna  is a wonderful starter plant to your office or any living space. It is tolerant to low-medium light and will thrive under artificial lighting


Plant Care:

Medium  - low light
Water as needed based on what level of light Chinese evergreen is kept in. If in lower light water less
Enjoys humidity but not a must! 
Between 18 - 26 degrees - keep away from cold drafts
Propagate by root division
Use a complete liquid fertilizer or slow release fertilizer once or twice over the growing season.