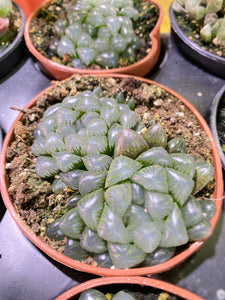 About this plant


Plant Info:

Cooperi (coo-per-eee) is a beautiful little succulent that has translucent leaves that grow in a neat little clump. Cooperi is a conversation starter for sure, easy to have around and versatile to any light

Plant Care:

Medium  - bright indirect. Will see faster growth in brighter light 
Let soil dry out completely between waterings, and only water sparingly over the winter time. Do not let water stand on top of soil, it will drown your leaves 
No humidity necessary 
Between 18 - 26 degrees - keep away from cold drafts
 Use well draining succulent soil if reporting.